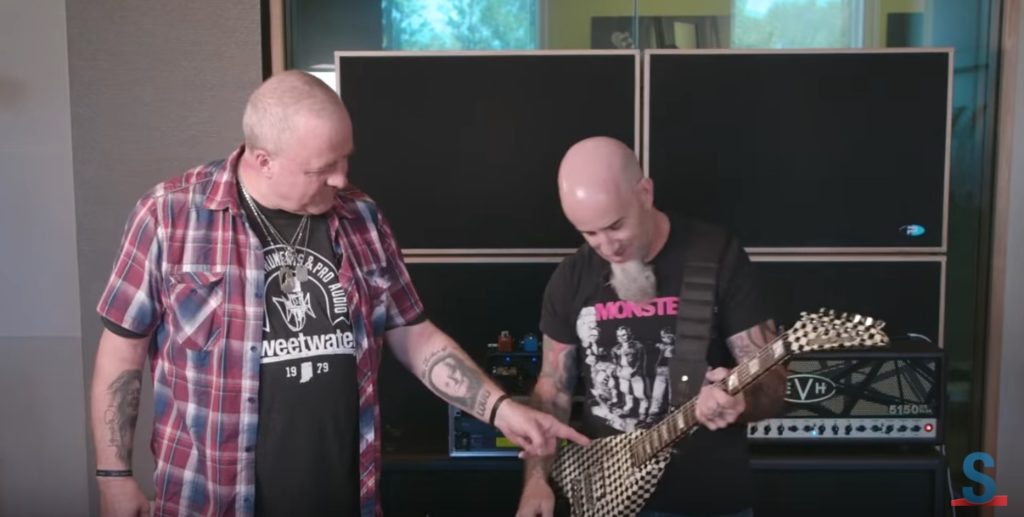 Scott Ian gave Sweetwater a peek at his collection of Jackson King V™ guitars in a recent episode of Rig Tour, in which the Anthrax guitarist also dishes on his long time love of the iconic body shape.
"I love the feeling of the King V, so I said to [Master Builder] Mike [Shannon] at Jackson, 'What do you think if maybe the next signature model we did some type of V?'" said Ian. "I love that classic look of a Gibson [Flying V], but at the same time I also love the sharp look of a Jackson. We found this hybrid design that made it look different from any other Jackson King V but keeps the atheistic of why I love Jackson."
Ian's collection includes his first Shannon-built King V's in Ivory, which remains as his go-to axe.
"My favorite sounding one is the white one, of the four," said Ian of his USA Signature Scott Ian King V KVT in Ivory. "I just think that one has the most balls, so I will try and keep that one as long as possible in the set until it needs a break."
Another one of his King Vs sports an unorthodox custom checkered paint job that pays homage to Cheap Trick guitarist Rick Nielsen.
"[The paint job] took about a year," said Ian. "Just what an unbelievable job they did. I love this guitar. Sometimes I think about retiring it, but then I don't get to look at it. I am so happy when I have it on; I look down and it makes me smile."
Watch Ian run through all his King Vs in the full Rig Tour below.