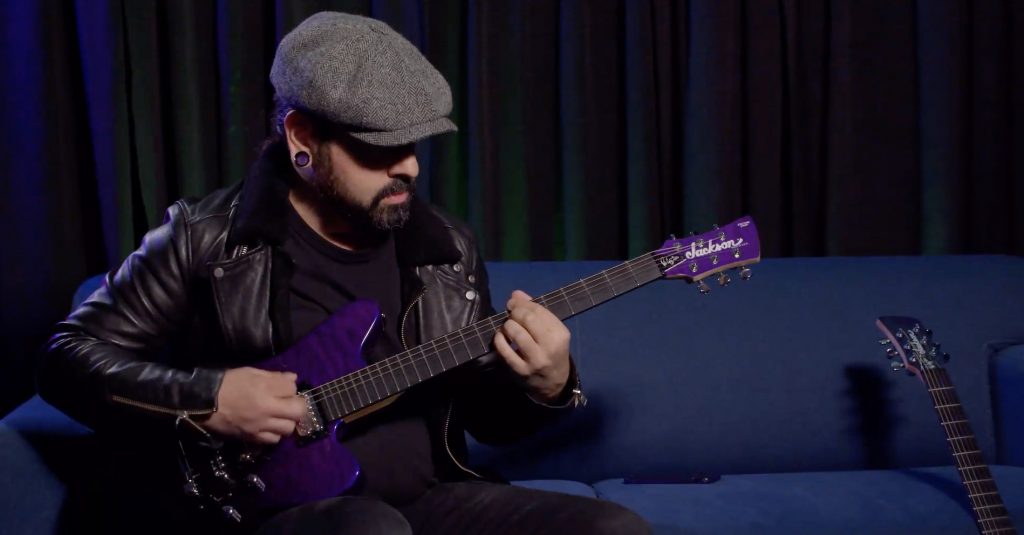 In a new exclusive interview with Jackson, Volbeat guitarist Rob Caggiano discussed the inspiration behind his all-new signature USA and Pro Series Shadowcaster models.
As his story goes, Caggiano was working at a music store back in the day when he came across the Jackson Outcaster.
"It was a quirky guitar, and I fell in love with the shape of it," shared Caggiano. "It was cool!"
Caggiano couldn't resist purchasing the guitar, which he played for many years. So, upon returning to the Jackson fold, Caggiano based his new signature Shadowcaster model on that quirky offset shape.
For the USA version, Caggiano settled on alder, a medium weight wood that produces beefy mids and distinguished lows.
"I have never really used alder," said Caggiano. "[Jackson AR rep] Mike Tempesta suggested we try alder, and it totally rules. It sounds amazing — it just sounds big."
The USA Shadowcaster in Trans Purple Fade is also loaded with premium features ideal for professional guitarists and touring musicians, including a bolt-on quartersawn maple neck mounted to the body with Allen screws for improved stability.
"Over the years, one of my main problems live and an annoying thing that always happens to me was the neck shifting in the joint," said Caggiano. "When that happens, the intonation is out of whack and it's out of tune. It's annoying. We came up with this idea having special [Allen] screws. Basically, this neck will never move. Ever."
The Pro Series Rob Caggiano Shadowcaster boasts similar rock 'n' roll attitude but with a more budget conscious price tag, a few spec variations and a Purple Metallic finish.
"I was blown away when I got the prototype for the Pro Series," said Caggiano. "It really is an awesome guitar, [the Jackson team] nailed it. It really is great. It's a more affordable instrument but it feels like a Cadillac."
Watch Caggiano for the full scoop on both new models in the video below.