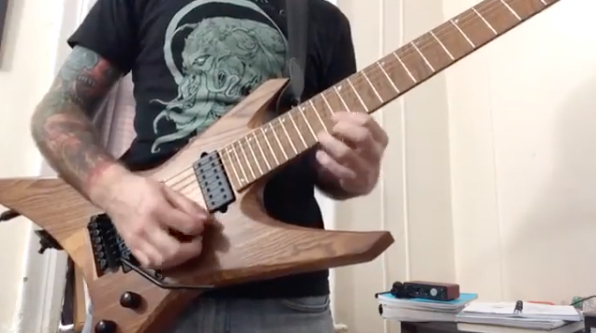 Coronavirus be damned!
While tours might be grounded, the ongoing pandemic didn't prevent some of metal's mightiest axemen from taking over our Jackson Instagram feed for some quarantine entertainment. We rounded up some highlights from the mayhem for your viewing pleasure.

Leading the way with the takeovers, Revocation frontman and axe maestro Dave Davidson delivered plenty of face-melting runs on his army of Jackson Warriors.
"Playing sick and brutal riffs is the best way to cope with quarantine," quipped Davidson before he launched an assault on his Pro Series Signature Dave Davidson Warrior WR7.
The legendary Marty Friedman got in on the takeover action with an update from a recording studio in Japan. Friedman offered some sage words of advice and encouragement before treating viewers to a passionate performance on his USA Signature Marty Friedman MF-1, even inviting fans to take a poll to vote on their favorite rendition for a project he is working on.
"If you're watching this, chances are you're a friend of Jackson and might even have a Jackson," said Friedman. "That will definitely give you something to do in those hours. If you have a guitar like [a Jackson], there's no excuse for you to not be beating the crap out of it 24 hours a day!"
During his weekend takeover, Gus G. kicked things into high gear with a quick playthrough of Firewind's latest single "Rising Fire" on his dynamic USA Signature Gus G. Star. Even the Greek guitar god's feline companions Valentino and Leon got in on the action.
As well as hosting a Live session by the campfire, Lamb of God's Mark Morton treated us to a killer playthrough clip of latest single, "Memento Mori," which will be featured on Lamb of God's upcoming June 19 studio album.
"The guitar I'm using is a stock, production model [Pro Series Signature Mark Morton Dominion]," noted Morton of his axe. "Nothing custom or special order about it. And it rips! I'm so proud to play these guitars."
Trivium's Corey Beaulieu put his Jackson arsenal on full display, including his very first Jackson, which appeared on his band's 2006 music video for "Pull Harder On The Strings Of Your Martyr," as well as his all-new Pro Series Signature King V KV6Q and KV7Q in Winterstorm.
"These are the guitars that I used on the new [What the Dead Men Say] record," said Beaulieu of his signature models. "Jackson killed it once again. They came out amazing, and I can't wait to get on tour and play them when we can actually tour again!"
Phil Demmel also gave everyone a peek at his deep Jackson arsenal, which included a sweet shot of his black with white stripes custom King V created by Jackson designer Kurt Walton that he's nicknamed "Oreo."
"Walton had some great ideas for this one and it came out killer!" said Demmel.
During his takeover, Death Angel's Rob Cavestany gave a stellar performance of Randy Rhoads's solo in "Tonight" from Ozzy Osbourne's sophomore album Diary of a Madman, using his unique custom shop Jackson "Dragon" model.
"I'm blown away by the craftsmanship of this stealth beauty," said Cavestany. "Black on black with black bat inlays — wicked dark tone that's solid and consistent."
Jeff Loomis got viewers amped up with a playthrough of Nevermore's throttling song "This Sacrament," off renowned album The Politics of Ecstasy. For the video, Loomis let it rip on his all-new Pro Series Signature Jeff Loomis Kelly Ash.
"As you can see, [the USA Signature Jeff Loomis Kelly and Pro Series Signature Jeff Loomis Kelly] are very, very difficult to tell apart," laughed Loomis. "They really have an identical look to them. Playability-wise, they are booth incredible playing guitars!"
Periphery's Misha Mansoor brought a healthy dose of humor and sarcasm to his takeover. The djent axeman trolled Jackson followers with a cheeky "lick lesson" on his Pro Series Signature Misha Mansoor Juggernaut HT6 in a cool Matte Blue Frost.
"This is a really sweet lick to practice on guitar if you're trying to get good at sweeping," said Mansoor before diving headfirst into the wacky run. "Remember to just play a lot of guitar and get good!"
Stave off the quarantine boredom with these wicked clips and be sure to follow the Jackson Instagram for more artist takeovers.