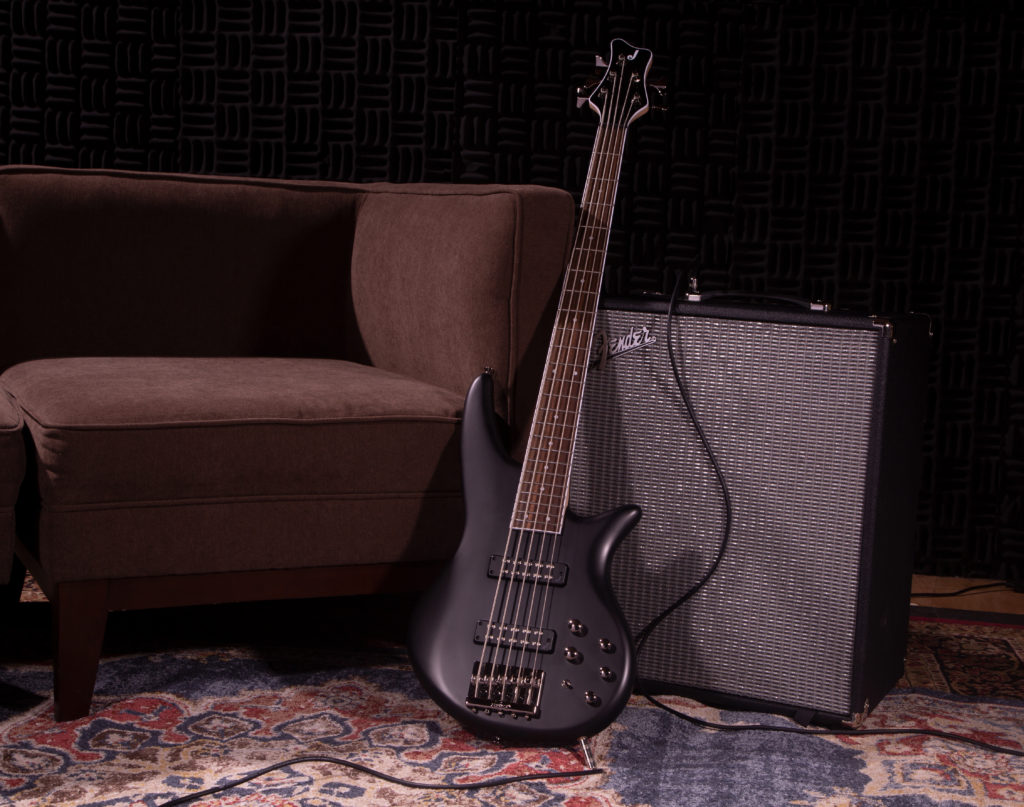 Premier Guitar's Steve Cook took the Jackson JS Series Spectra Bass JS3V for a test drive in the publication's October issue, and marveled at the bass's versatile offerings for a wallet-friendly model.
"Since the acquisition of Jackson by Fender, the styles have become more mainstream and stretch across multiple genres," wrote Cook in his review. "One such instrument is the Spectra JS3V, a 5-string active bass that embodies this approach, with a look and feel designed to appeal to the masses."
The Spectra Bass JS3V proved itself to be a rock-solid instrument, with a host of fine features.
"The bolt-on maple neck boasts a scarf joint to increase sustain, and its satin finish along with the 12"-16" fretboard radius makes for comfortable and quick playing," noted Cook. "The extended upper horn brings a more balanced bass to the gig by helping reduce neck dive."
Cook plugged the Spectra Bass JS3V into an Eden Terra Nova head and 2×10 cab to try out the Jackson bridge and neck humbucking pickups. With a two-way toggle switch for pickup coil splitting and active 3-band EQ, Cook enjoyed a vast soundscape.
"When I rolled the blend more toward the neck pickup, the bass started to come alive with some great P-like notes," noted Cook. "Coil tapping provides another option, and splitting the pickups did provide a touch of warmth to the subdued signal. The bass was feeling very comfy with solid rock runs and fingerstyle funk, as well as old-fashioned R&B.
"Once engaged, the EQ unsurprisingly turned the JS3V into a more modern-sounding instrument. Adding some low end really helped the bass become more tonally relevant, and using a pick brought big, rock tone. The JS3V's 5th string is super tight, which I love. Although it lowers the output a touch, splitting the pickups sounds even warmer in active mode with some low end dialed in."
Cook's final takeaways of the JS Spectra Bass JS3V?
"The JS3V certainly felt beyond its price tag," he wrote. "[It] comes in at what I would call the top end of entry-level priced basses, but by no means does it skimp on quality. The JS3V is a comfy instrument – like, four-hour gig comfy – and it will be at home in many hands for years to come."
Read Cook's entire review here.