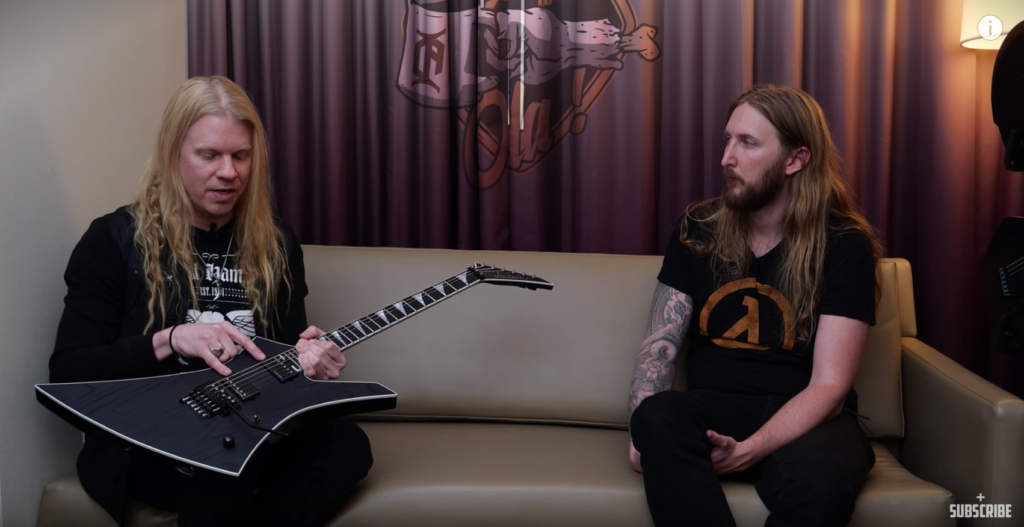 Wicked things happen when metal gods meet.
Jeff Loomis recently joined Feared guitarist and YouTuber Ola Englund for an episode of Coffee With Ola, in which the duo discussed Loomis' guitar influences, expansive career and new partnership with Jackson.
"I come from a family with a lot of musical influence; classical, jazz, '70s music, '80s music," explained Loomis. "I remember when my dad would play me Queen and Van Halen records, that's when I started to hear the guitar and really wanted to get better."
Loomis has enjoyed an eclectic career as a musician, from gigging around his hometown of Menasha, Wis., to composing some of the nastiest guitar riffs for Nevermore and Arch Enemy. It is evident Loomis has formidable chops, so it almost seems like metal destiny that Loomis would find himself at Jackson. As he reveals to Englund, it was a trip to the Jackson Custom Shop, though, that sealed the deal.
"I wanted to see the [Jackson] facility in Corona, and I was blown away," said Loomis. "To work with the likes of [Master Builder] Mike Shannon, it was a no brainer for me that I really wanted to be a part of the team."
Loomis recently joined the Jackson family as a signature artist, with his USA Signature Jeff Loomis Kelly making its hotly anticipated debut at the NAMM Show in Anaheim, Calif., last month.
"This guitar is a metal machine," said Loomis of his signature axe. "The neck is really special; it was hand-sanded to my specs in front of me. It was literally being handed back and forth to me from Mike Shannon. He is a master at his craft."
Check out Loomis in the full episode of Coffee With Ola below.