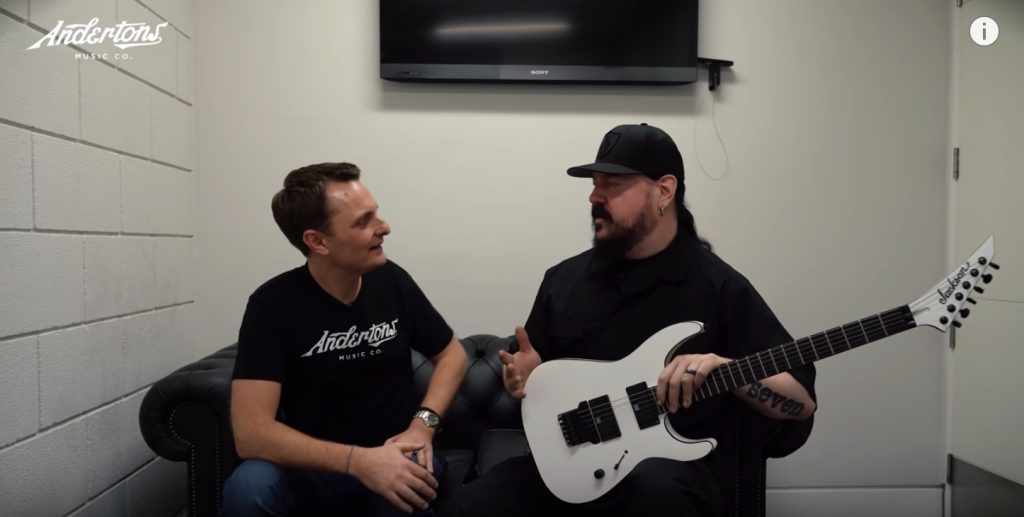 Lee "The Captain" Anderton caught up with Slipknot's speed demon Mick Thomson backstage at The O2 in London. In a lengthy interview—with Thomson foregoing his legendary stage mask, the two gear heads discussed guitar heroes and influences, the early days of Slipknot and the precise details what went into constructing Thomson's signature Jackson Pro SL2 model.
"Hendrix was the whole reason I started playing guitar," said Thomson. "He was a major motivator. My dad had the most amazing guitar-oriented record collection for a non-player. It was hard to not love the electric guitar; I was just enamored with it!"
Thomson bought his first electric guitar at 10 years old with his haul from a paper route, and soon discovered heavier, guitar-driven genres.
"By junior high, I got into thrash and speed metal," he shared. "Then I got exposed to death metal and it was like holy shit. It was everything I loved about thrash and speed metal but faster and meaner!"
Before Slipknot, Thomson was part of tech-death metal band Body Pit, alongside Paul Gray.
"I got in toward the end of that and we lost our drummer," explained Thomson. "Slipknot happened when we were trying to figure out what we wanted to do."
To achieve Slipknot's iconic tight galloping guitar tone, Jackson outfitted the Pro Series Signature Mick Thomson Soloist SL2 with a unique Floyd Rose-inspired bridge system—designed specifically for the axe fiend.
"This is a custom bridge that Jackson did for me," said Thomson. "It's basically your standard Floyd-style tremolo except it's not a tremolo. The energy transfer with the way this thing is bolted down is just awesome. It's every bit as loud and sustaining as a Tune-O-Matic.
"It's very specific because I'm very specific."
Dual Mick Thomson Signature Seymour Duncan® Blackout® humbuckers handle Slipknot's dropped tunings without sacrificing their aggressive tonal character.
"These are my fuckin' handmade in Santa Barbara, Calif. Pickups," emphasized Thomson. "These are the actual pickups that I use. They've been on every record since we developed them."
Watch Anderton's full interview with Thomson below.