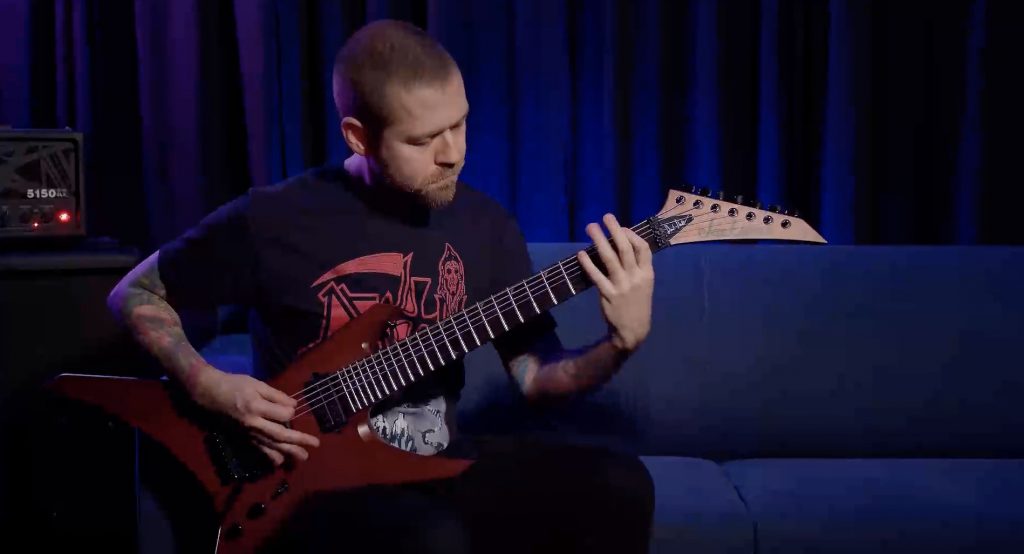 In all new video, Revocation frontman Dave Davidson gave the Jackson team an exclusive look at all the specialized specs that make up his new Pro Series Signature Dave Davidson Warrior WR7 MAH battle axe.
First up, his Pro WR7 is loaded with DiMarzio® Imperium 7™ bridge and neck pickups that kick with a full-bodied low end and shimmering clean highs without sacrificing note definition.
"DiMarzio Imperiums have been in all my signature models, I'm a huge fan of them," said Davidson. "They are more medium output. They're not super high output, so I think the notes really come through. Whether you're playing a precise riff, it's got a punch to it and the notes don't get lost."
Davidson's Warrior is also outfitted with appointments that cater to comfortable intricate riffing, including a sturdy ebony fingerboard and an oiled maple neck.
"The neck's got an oiled finish," said Davidson. "I've played gloss necks before but I prefer the gun stock oil-style finish. It rewards you the more you play it. It feels familiar, like you're shaking hands with an old friend!"
Ten years as a Jackson artist and four wicked signature models later, Davidson also reflected on what it meant to him to be a part of such an iconic brand in the world of high-performance axes.
"It's an incredible honor to be a part of the Jackson family and have my own signature guitar," noted Davidson. "Jackson is in my blood because it was really the first metal guitar I was really proud of. My parents bought me a Ferrari Red Warrior. It was part of my musical DNA growing up, it just inspired me.
"The Warrior just caught my eye the first time I saw it. I just thought, 'That's so badass.' I think it's important for an instrument to inspire you, and the Warrior definitely does that for me."
Watch Davidson show off his new model in the video below.