The Jackson Custom Shop was firing on all cylinders with over 20 new pieces debuting Wednesday evening at our annual dealer auction at the NAMM Show.  Bringing with them an amalgamation of old and new techniques, Master Builders Mike Shannon and Joe Williams introduced a plethora of unbelievable one-off axes.
Here, we've chosen 10 killer guitars to quickly highlight:
X-Stroyer HH HT Gold Relic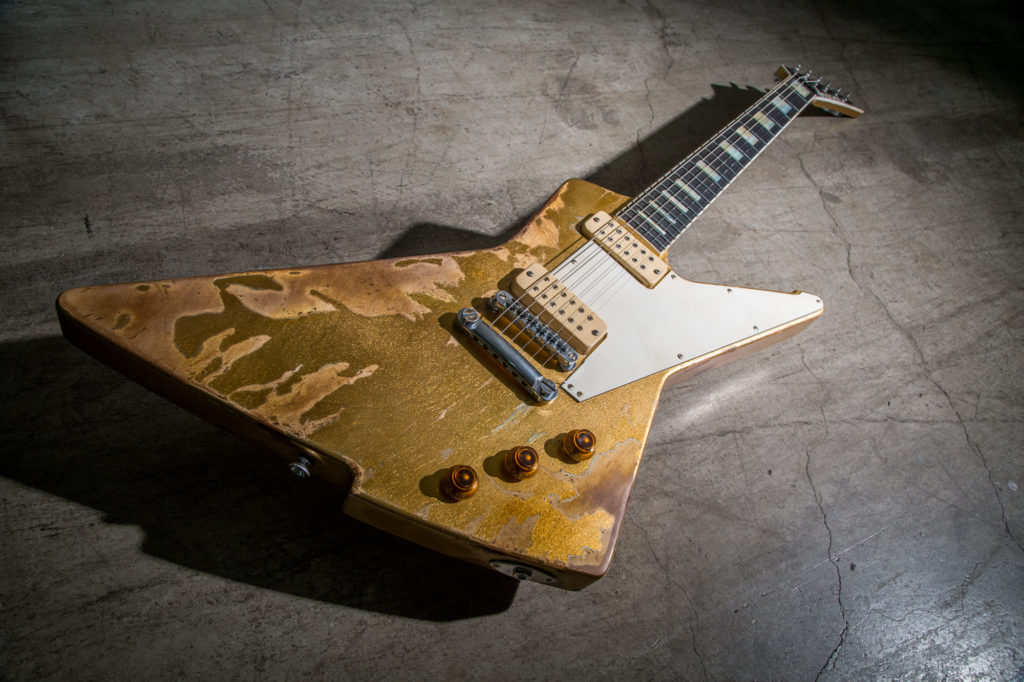 Expertly crafted by the legendary Shannon, the X-Stroyer HH HT is a road worn warrior that sheds its Gold veneer to reveal a beautiful alder body beneath. Sitting atop its quartersawn maple neck is a bound 12-16" compound radius ebony fingerboard with 22 jumbo frets with mother of pearl block inlays. This high-performance beast is capped off with a Tone-Pros Tune-O-Matic bridge, Jackson Gotoh tuners, and DiMarzio® pickups.
Soloist® SSS FR Butterscotch Relic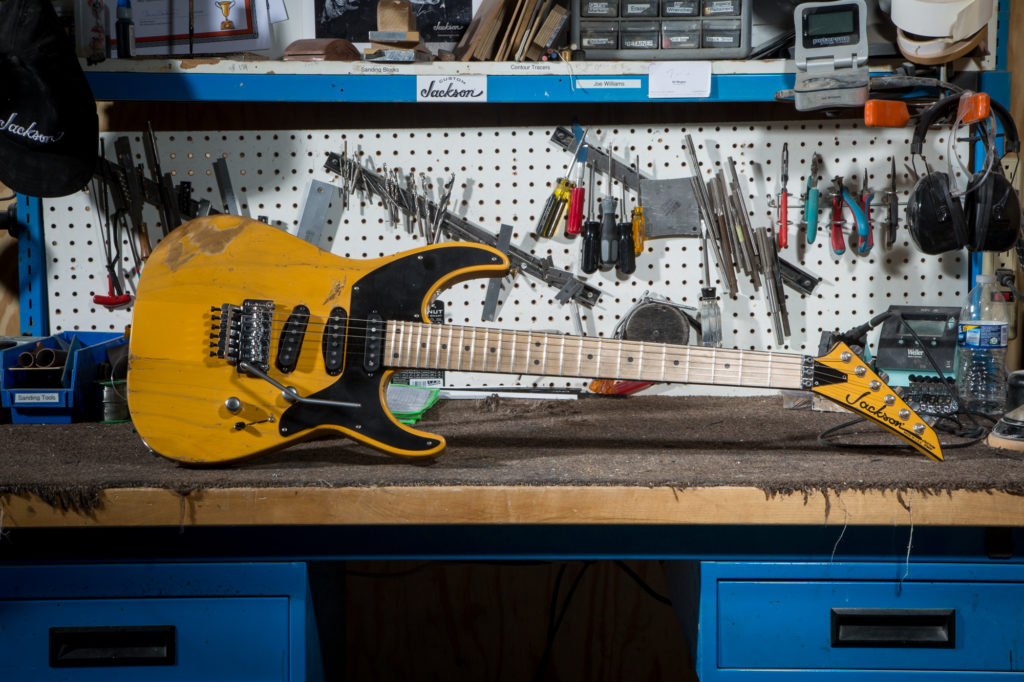 This Soloist® SSS FR built by Williams is dipped in a creamy Butterscotch finish and relic'd to give the appearance of a well-worn rig. The unique triple, Fender Texas Special pickup configuration opens a slew of options at the touch of your fingertips via its five-way blade switch. Also included is a Floyd Rose™ tremolo bridge, Jackson Gotoh tuners, and 1-ply black pickguard.
Double Rhoads HH FR Black Metallic Red Bevels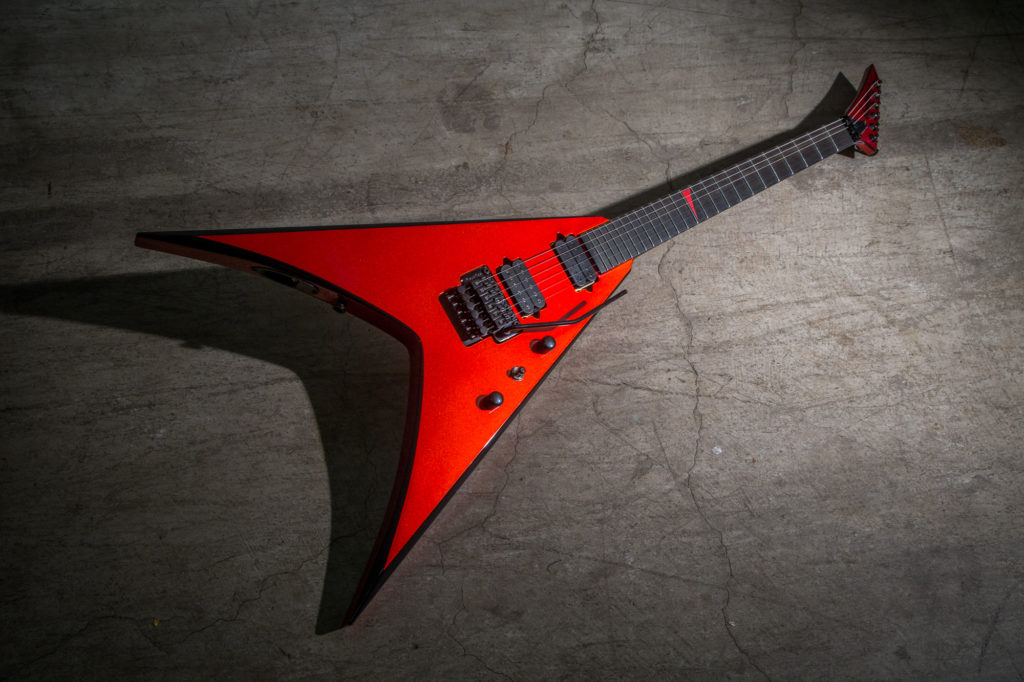 The custom Double Rhoads HH FR built by Shannon is a mean looking metal machine. The alder body is dipped in a voidless Black finish and is highlighted by its impressive Metallic Red bevels. The ebony fingerboard is adorned with 24 frets and a single Red sharkfin inlay. A Floyd Rose™ Original tremolo bridge system plus DiMarzio® Super Distortion and PAF Pro pickups give this rocker all the edge it needs at home or on stage.
F-Bird HH FR Amber Sunburst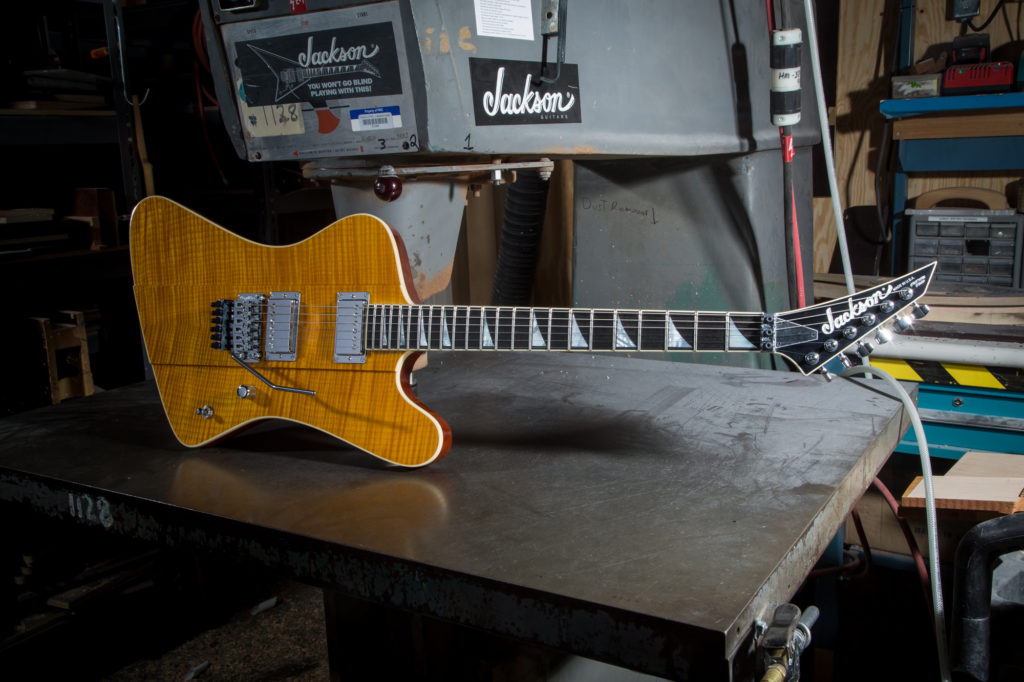 Shannon's exquisite F-Bird HH FR guitar is yet another example of his badass metal might. A mahogany set-neck sits elevated atop the amoeba like Amber Sunburst finished mahogany body. Fine details include a beautiful, white body, neck, and head binding, chrome covered EVH® Wolfgang pickups, Floyd Rose™ tremolo bridge, and reversed pearl sharkfin inlays, putting this jaw-dropping axe in a league all its own.
Round Horn V FR Korina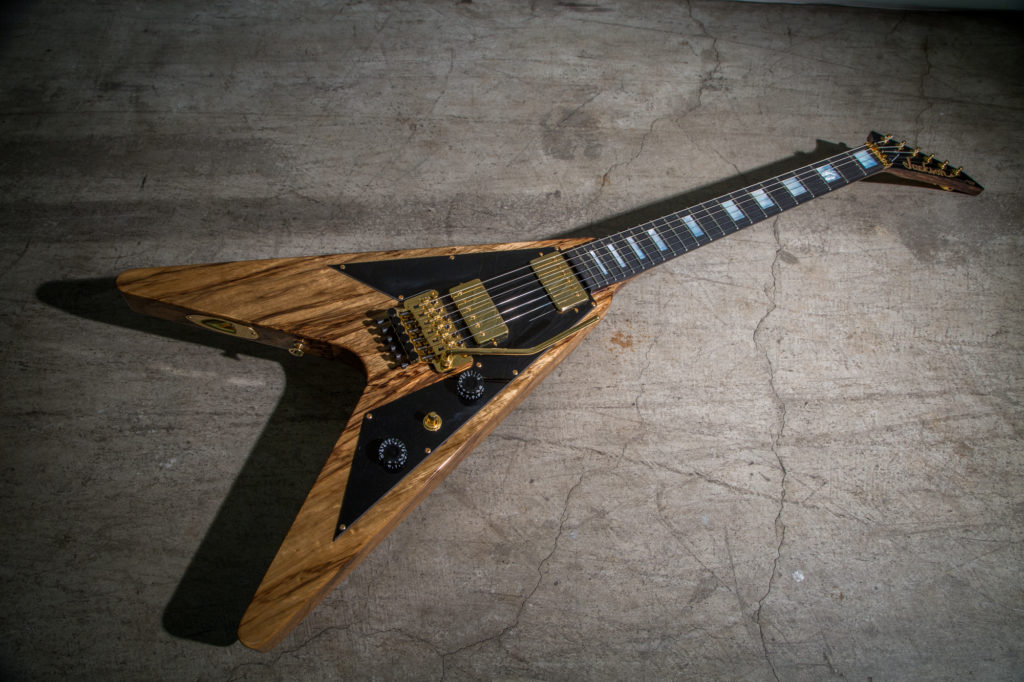 A black korina wood takes the masterfully crafted Round Horn V FR to the next level. The Natural finish lets the beautiful wood grain shine through as it is juxtaposed next to the Gold Seymour Duncan™ Pickups, Floyd Rose™ Tremolo bridge system and Gotoh tuners. A mirrored Black pickguard and Black speed knobs match the ebony fingerboard with mother of pearl block inlays, bringing together a pristine final piece.
Slat6 27 Frets HS FR Blue Sparkle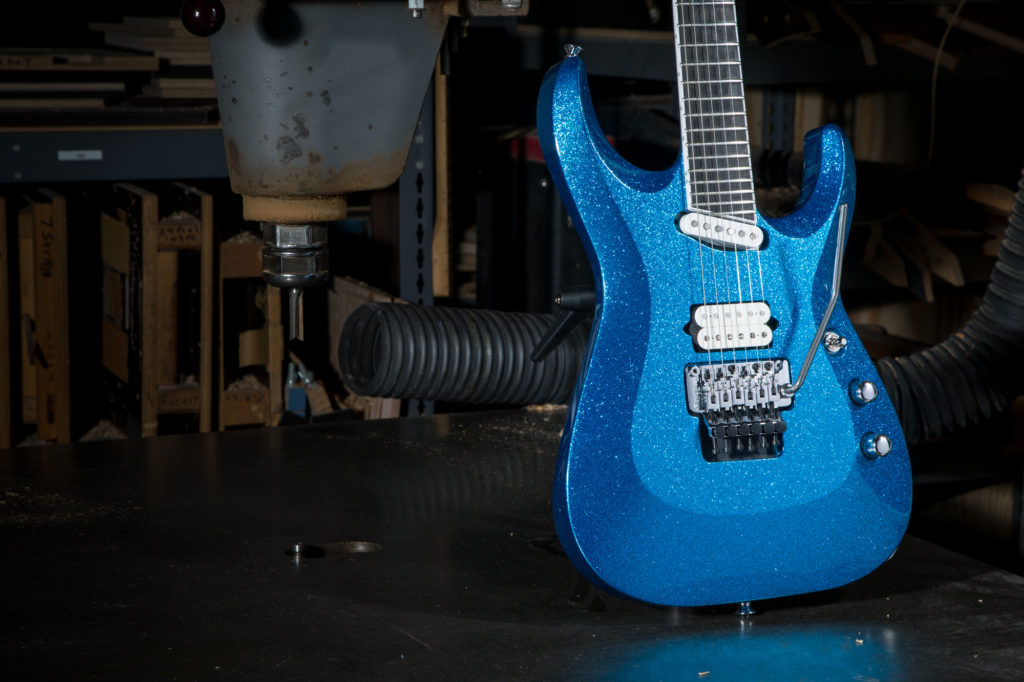 Twenty-seven. The number of jumbo frets on Williams' unbelievable custom Jackson Slat6 27 Frets HS FR. A glaringly bright Blue Sparkle paint sits atop the alder body guitar. This wild axe is built for shredding with its bound ebony angled fingerboard and white DiMarzio® pickups. A single sharkfin inlay at the twelfth fret buttons up the look of this guitar perfectly.
Dinky™ 7 HH MS QM Blue/Turquoise Vertical Fade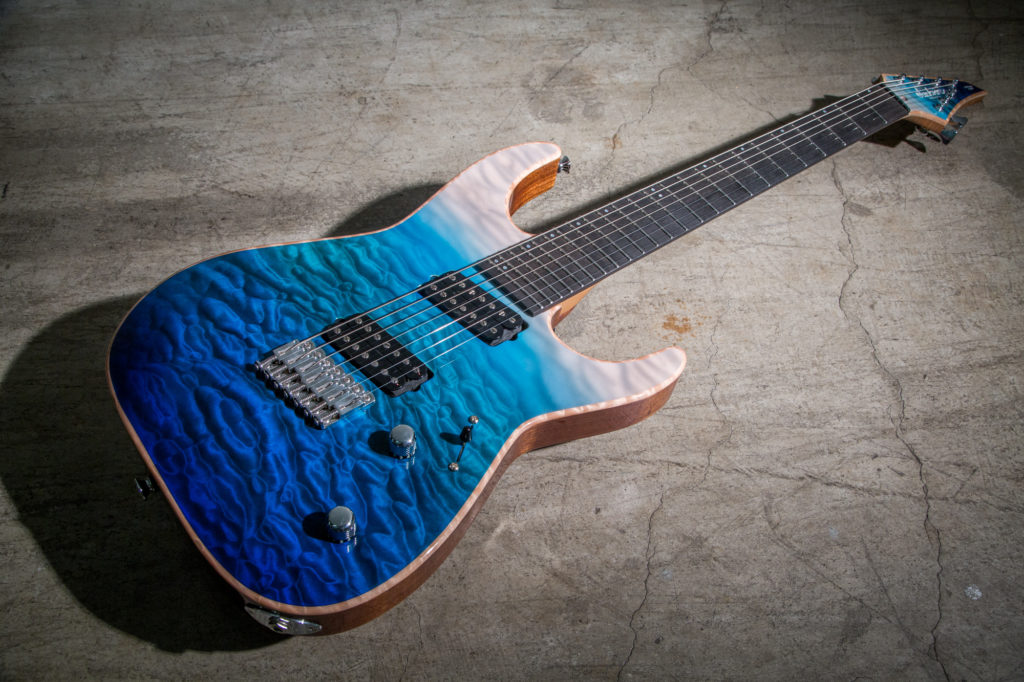 With an incredibly original quilt maple top in a seamless Blue and Turquoise Vertical Fade finish, the Williams crafted seven-string Dinky™ 7 HH MS QM is a unique multi-scale guitar thanks to its fan fretting found on the ebony fingerboard. Two angled Bare Knuckle Aftermath pickups sit within the cooked black ash body and give accelerated bass response for exceptionally fast tracking of high-speed staccato riffing. Finished with chrome hardware, this ripping rig really shines.
Dinky™ HH Ash Multi-Scale Black/Yellow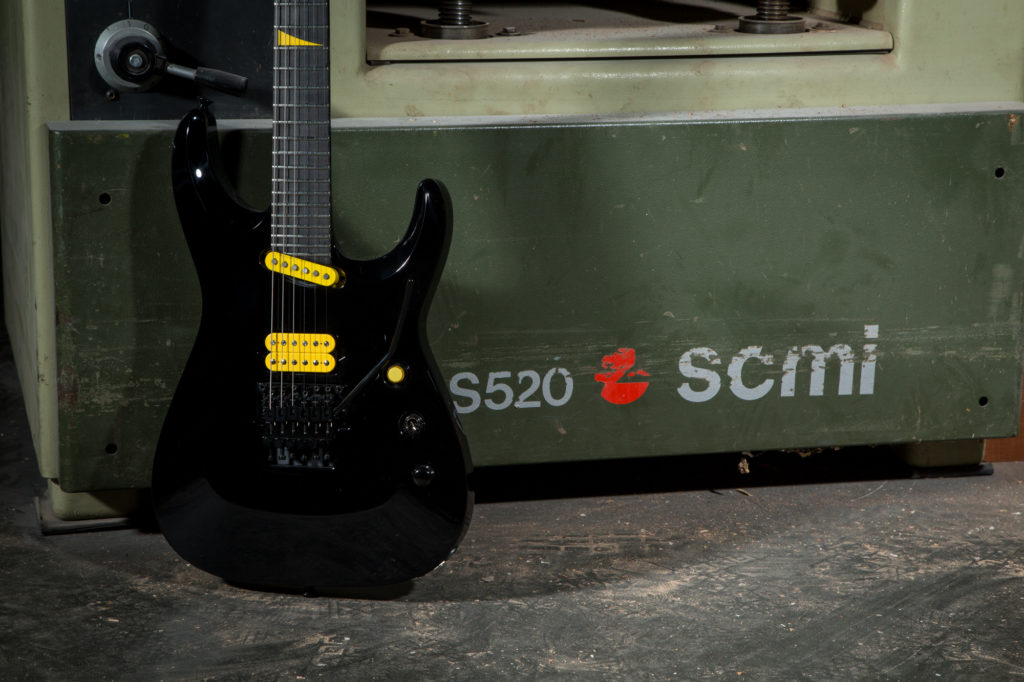 Williams' Dinky™ HH Ash Multi-Scale combines a bolt-on wedge neck with a cathedral grain, flat-sawn ash body to create a one-of-a-kind, fan fret monster. Starting with a black base coat, the guitar's grain is highlighted in a spectacular yellow with matching dual direct mount angled Bare Knuckle Aftermath pickups and a single sharkfin inlay. A carved neck heel gives you all the room you need when tearing up its 24 frets.
X-Stroyer HH FR Tobacco Burst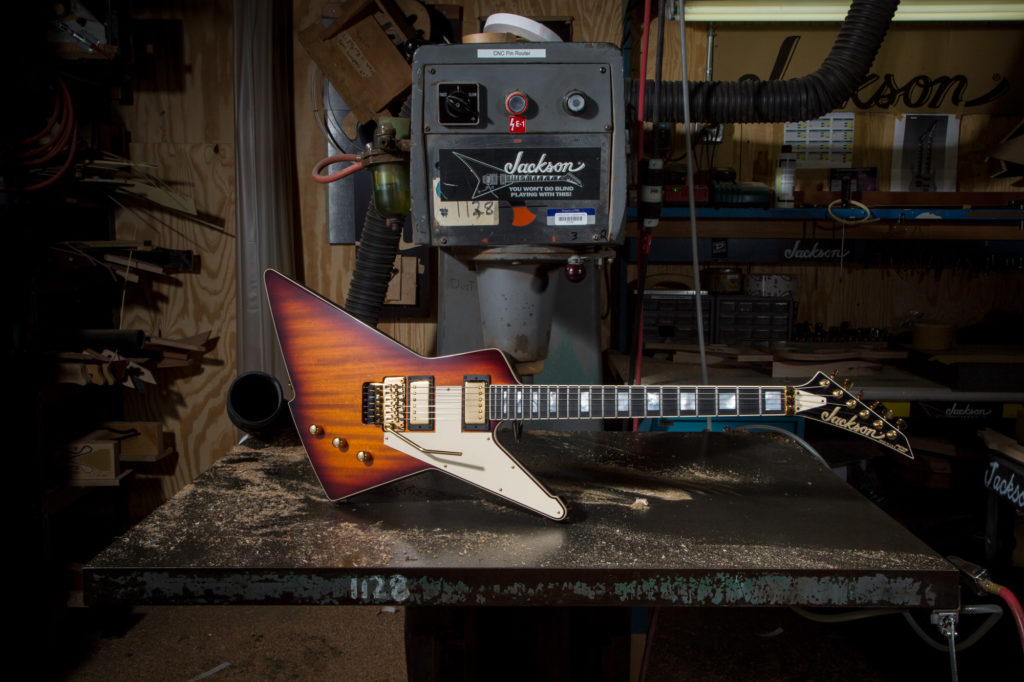 The vintage looking Jackson X-Stroyer HH FR calls back to the glory days of rock with its unmistakable Tobacco Burst finish and 1-ply crème pickguard. The guitar's hardware, which adds two gold-covered Seymour Duncan™ pickups and a gold Floyd Rose™ Original tremolo bridge, make for not only a gorgeous aesthetic, but also a highly playable instrument.
Concert Bass™ HH HT Army Drab Green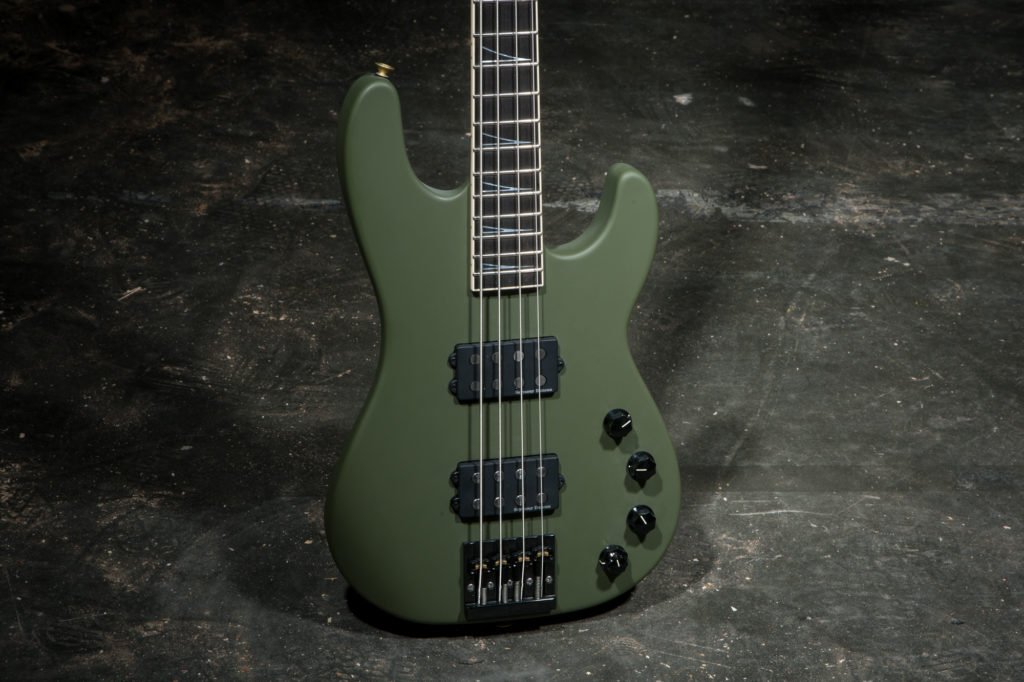 The Shannon-built Jackson Concert Bassß HH HT bass is ready for battle with its Army Drab Green finish and brass hardware accents. Powered by a set of Seymour Duncan™ pickups and a Fender American Deluxe Jazz Bass preamp, this tank also features an alder body, quartersawn maple neck and a bound 12"-16" compound radius ebony fingerboard with mother of pearl sharkfin outline block inlays and 22 frets.