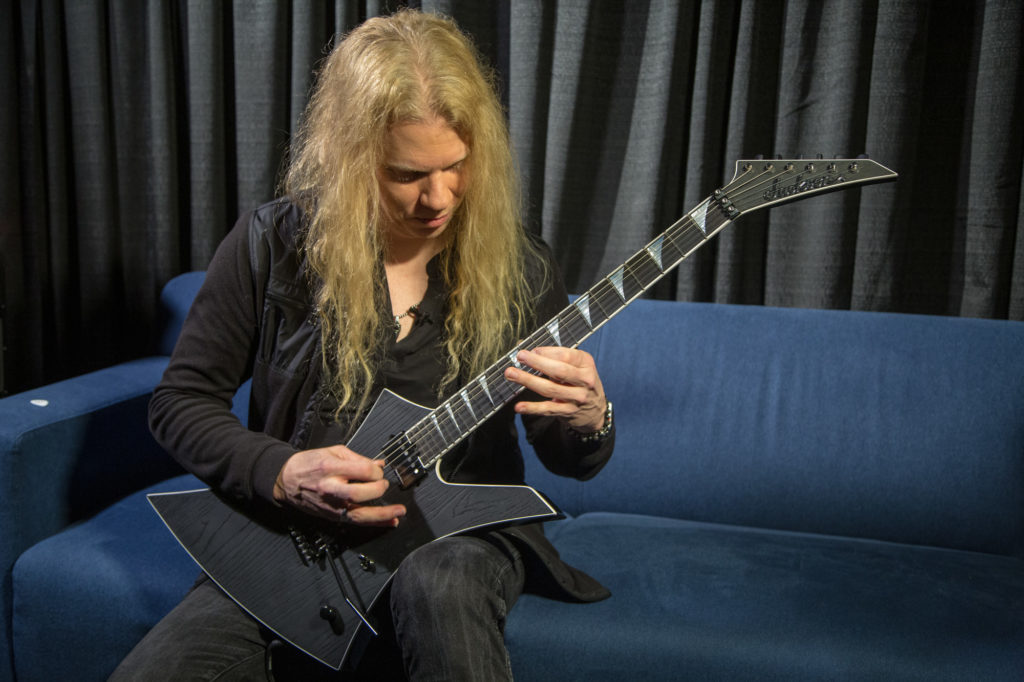 "Arch Enemy is a metal band… I'm metal, I have played metal my whole life and I wanted to have my signature model to be extremely aggressive-looking," reasoned ace guitarist Jeff Loomis of his approach to his new collaboration with Jackson.
Indeed, Loomis has forged a stellar metal career that spans over three decades. His incredibly intricate picking technique and heavy riffing style can be heard on albums like Nevermore's Dead Heart in a Dead World and Arch Enemy's Will to Power. With pummeling chops like his, it's no wonder he chose the revered Kelly as his powerhouse metal sig body shape.
"I knew I wanted to do the Kelly guitar because I know Marty Friedman used it for many years, but I hadn't seen a lot of guitar players playing it," explained Loomis. "I kind of wanted to bring it back, it's such a beautiful shape and so metal-looking."
The body of his sig model has been sandblasted to bring out the intricate grain of the ash wood and then draped in a Black finish with white binding that further accentuates the iconic, hyper-assertive angled shape. A chrome plate Jackson logo emblazoned on the pointed 6-in-line headstock tops off Loomis's insane creation.
"You don't really see [this logo] a lot on Jackson guitars … it's extremely metal-looking," he said.
Working with Jackson has a been a long time coming for Loomis, having played the iconic brand's guitars from even his early teenage-days tearing it up in bands around his hometown of Menasha, Wis.
"I'm very accustomed to playing Jackson guitars my whole life really," he shared. "From purchasing the instruments and using them in bands, and now being a part of the team and actually endorsing the instrument is an incredible thing to me. I couldn't be happier."
The USA Signature Jeff Loomis Kelly has a deeper cut lower horn for unrestricted access to the higher frets while the angled body evenly distributes weight across the instrument for comfortable playing. The neck was custom designed to his exact specification by Jackson Master Builder Mike Shannon.
"[Shannon] was sitting there making the neck right in front of me and I was like, 'Nope, that's not right yet. Not right.' And finally he hands it to me, and it was just perfect," recalls Loomis. "We honed in on the fine details to make it just what I wanted."
Aside from its brazen style and perfect neck shape, the Jeff Loomis Kelly also had to check the box for extreme tone. The Seymour Duncan® Jeff Loomis Signature Blackouts in the bridge and neck positions are high-output humbuckers designed to articulate notes under heavy distortion.
"My pickups are designed for the sound I really like," said Loomis. "The big thing for me is pick attack. When I am playing leads I really like to get the clickiness of the pick attack, so it's a very high output pickup specific for rhythm and lead. They're very hot pickups and sound killer."
Watch Loomis show off his playing chops and give a thorough rundown of his sig specs in the video below.