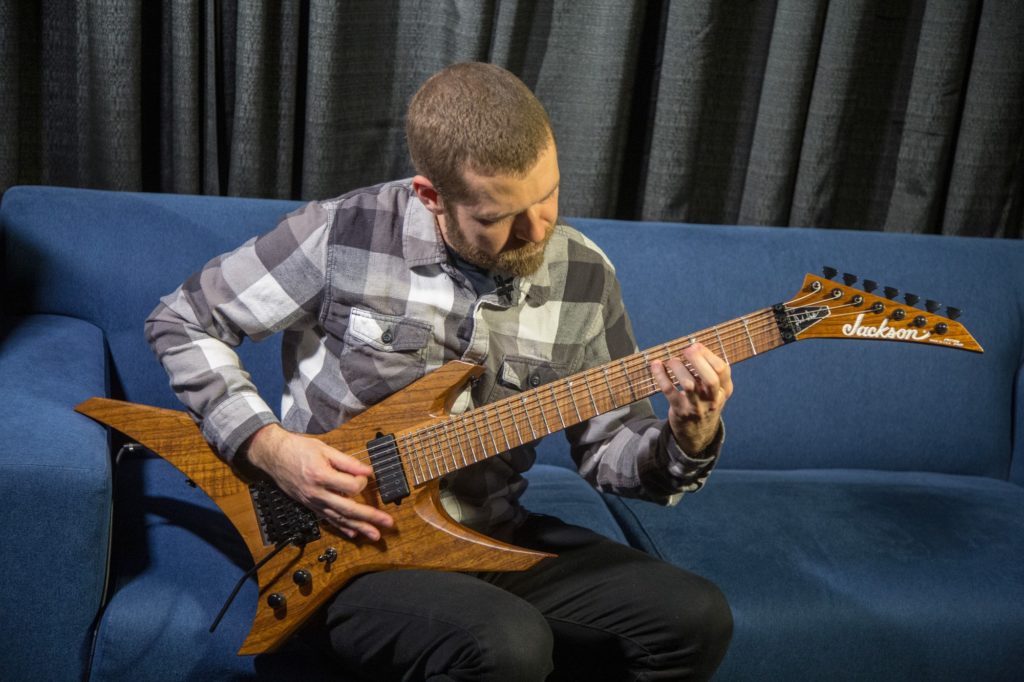 Revocation and Gargoyle frontman Dave Davidson thinks his new USA Signature Limited Edition Warrior WR7 looks like a melee weapon you'd find on the battlefield in Middle-earth.
"It's like this thing was carved from a gnarly tree trunk somewhere and reminds me of a battle axe a dwarf in Lord of the Rings would use," he says in the exclusive Jackson video below.
In the clip Davidson discusses the reasons he went for a caramelized body and neck for his latest sig creation.
"For this [WR7] we wanted to accentuate the wood grain even more, so we ended up roasting the ash which really brings out the nooks and crannies in the wood," he explains. "The wood grain is beautiful, it really pops. It's sanded and it has a little bit of texture. It's super metal with the shape, but the natural wood grain gives it a classiness."
The three-piece caramelized maple neck also provides a sturdy platform for heavy chording and lightning fast riffing without fear of it warping over time from prolonged use or environmental changes.
"Having a good, stable neck is obviously super important," continues Davidson. "I tour all over the world in different climates. What they did with this neck that's different than the last one is it's actually a three-piece neck. They cut it up, flipped the grain around and then glued it together and that binding makes the neck way studier than a regular cut of quartersawn maple."
Watch the video below to learn more about his key features and see Davidson impressively show off the endless tonal landscape of the new WR7 — from tight solos to even jazz progressions.