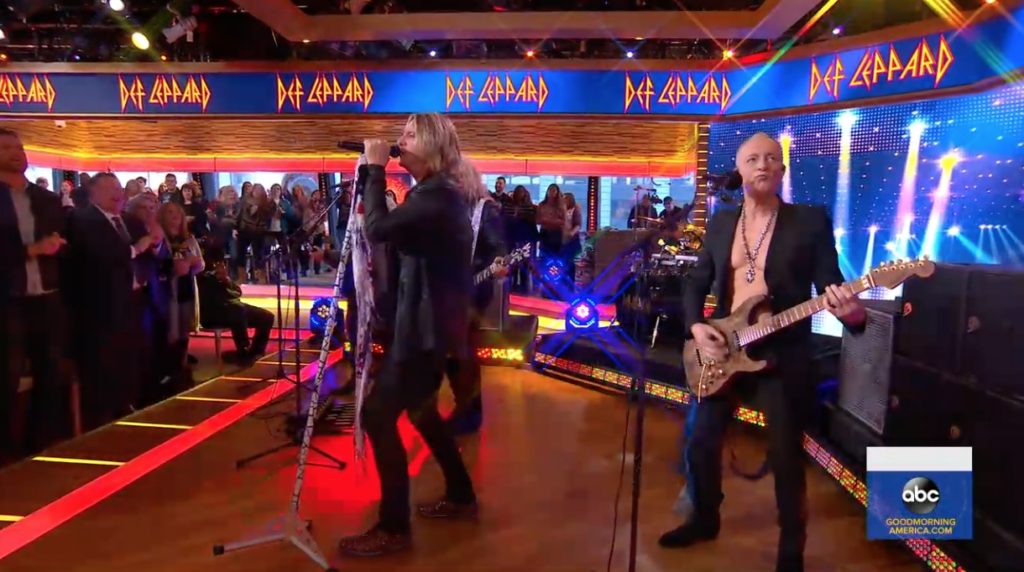 Def Leppard is gearing up for their induction to the Rock & Roll Hall of Fame this Friday with appearances on The Howard Stern Show and Good Morning America, where the band performed some of their hits and also discussed what the accolade meant to them.
"It's wonderful… it was their biggest fan vote of all time," said vocalist Joe Elliot on GMA of the band's induction nod. "So that means a lot more to us, as well."
The band stirred up the early-morning crowd with an all-out performance of "Pour Some Sugar On Me," featuring Jackson signature artist Phil Collen on his new USA Signature Limited Edition PC1 Claro Walnut.
On Stern, the guys gave a stripped-down performance of the same hit, which they told the radio host was probably the "quickest song they ever recorded."
Stern also asked Elliot about the impact of David Bowie, which led into a cover of "Ziggy Stardust."
Of course, Elliot and Collen also had the privilege of singing backup for Bowie and the surviving members of Queen during the Freddie Mercury Tribute Concert in 1992.
"I dragged [Collen] up on stage; he said he wasn't going to do it!" shared Elliot. "I said, 'You're going to regret this for the rest of your life if you don't.'"
"It was totally awesome," confessed Collen. "You are totally pinching yourself."
Queen guitarist Brian May will induct Def Leppard into the Rock Hall Friday night at the Barclays Center in Brooklyn, N.Y. Go here for more information on the ceremony, and enjoy the performances below. For even more of your Def Leppard fix, the UK rock giants will be hitting Las Vegas in August for a residency at the Planet Hollywood Resort & Casino.