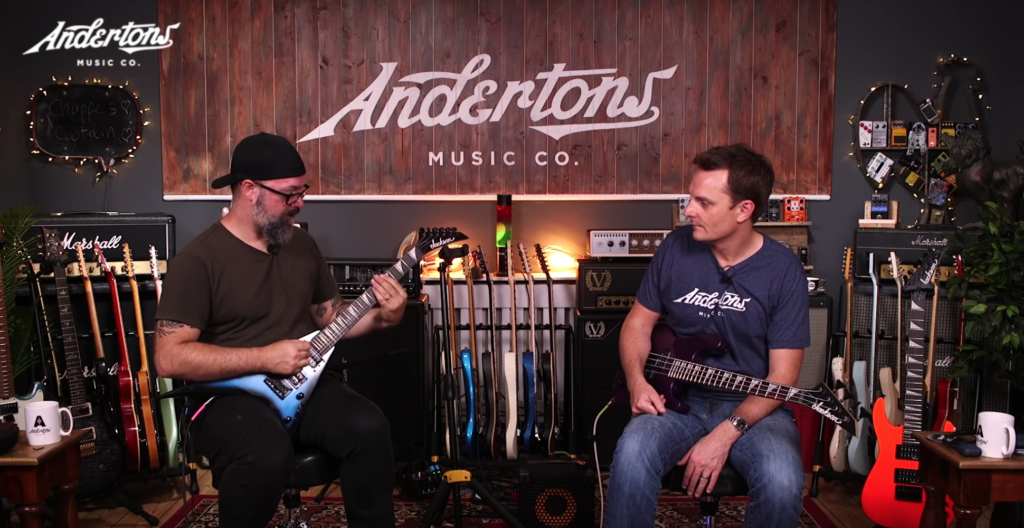 There's just something absolutely irresistible about our "tiny" Jackson Minions that even a grown man just can't resist.
With a new wave of Jackson Minions arriving this fall, Lee "The Captain" Anderton and Rob Chapman of Andertons Music couldn't wait to show off the little monsters in a new video.
"It is incredibly important that we do everything we can to inspire the next generation of electric guitar and bass players," explains Lee after indulging in a minute-long jam session.  "And to enable players to start young, I think it is important that brands make guitars that are more suitable for younger players."
"[The Jackson Minions] are proper instruments made using all the same kind of techniques that a full-sized guitar would use," continues Anderton. "Same kind of pickups, bridges and necks, just smaller. Physically the body is smaller and shorter scale, it's perfect."
Featuring an all-new amaranth fingerboard, the JS Series Dinky™ Minion JS1X and JS Series RR Minion JS1X models offer a 22.5" scale, while the JS Series Concert Bass™ Minion JS1X features a 28.6" scale.  But, don't let your guard down on the smaller size. — ye Minions play with the same ferocity of their full-scale counterparts.
"If you're 7, 8… maybe to 12 years old, that bracket where a full-sized guitar is a bit of a stretch, these are just perfect," Anderson says in summary. "And they look wicked! These pickups in here are the same you would get on a full-sized guitar, so sound-wise there's really not much difference."
All in all, they come away highly impressed with the affordability, playability and performance of these Minion axes.
"Well done, Jackson," says Anderton. "These are great!  I am sure it will inspire the next generation of rock stars."
Check out the full video below.