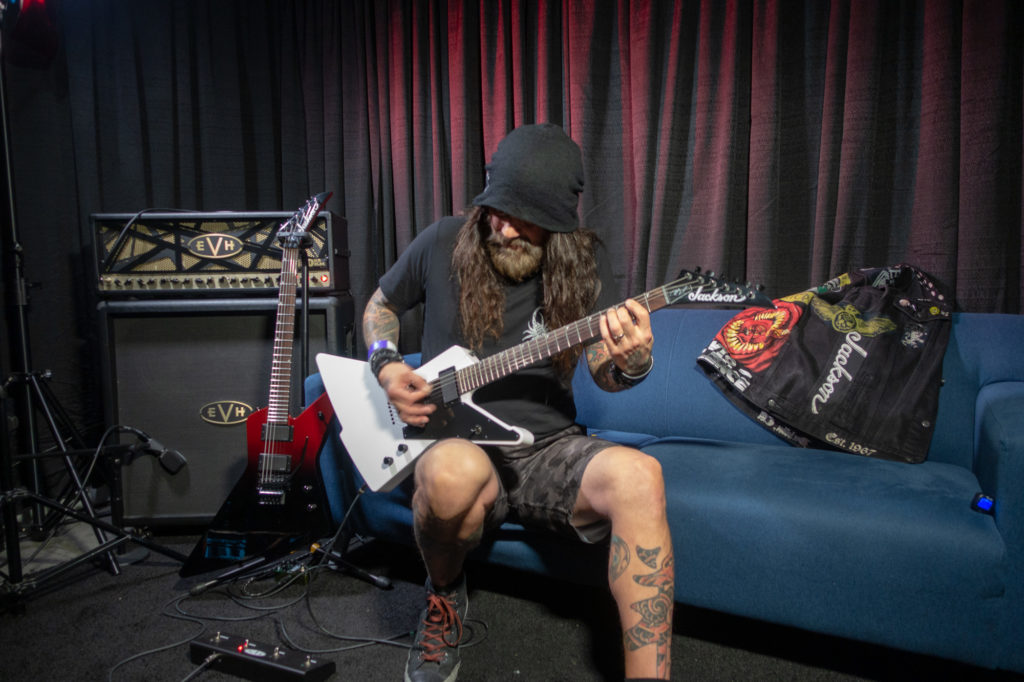 After wrapping up a 16-year run stint with Machine Head in September of last year, Phil Demmel wasn't honestly quite sure what was next for him musically. That quickly changed with an unexpected text from Slayer's Kerry King, who asked him to fill in for guitarist Gary Holt for a four-night run in early December.
"I think Slayer saved my musical career in some way," Demmel admitted in a recent interview with Music Radar. "In under 24 hours, I went from the last day of a tour wondering whether I was even good enough to be in bands any more to this mind-blowing text from Kerry King asking if I could play in Slayer."
Since then, he's fielded other guest spot requests, and even interest from video game music companies.
The axeman also reunited with his thrash legend band Vio-lence for a one-night show on April 13 to play their influential Eternal Nightmare album in full. A few more shows have since been added, with rumors of potential festival dates, too.
Additionally, Demmel is thrilled to usher in this new chapter with a brand-new Jackson Signature Demmelition design in the form of the Pro Fury PD and Pro Fury PDT.
"I've been a Jackson guys for 30-plus years now and always played the King Vs," said Demmel in video interview with our Jackson crew. "One of my first real guitars was shaped like these. I saw Jackson was doing the X-Stroyer and I had to have one."
Aside from the offset angular shape, these purebred metal machines brandish plenty of Jackson style. The PD is dressed in a slick Red Tide Fade finish that runs red from the headstock to the middle of the body before blending to black, while the PDT puts an assertive spin on classic style with a Snow White finish and a black pickguard that accentuates the lower horn.
"The Red Tide Fade was something my wife came up with," said Demmel of the PD. "In the fashion world, which I obviously have no sense about, there is something called the ombre and it's the fade like this. She said, 'You should put this on a guitar!' I think it looks awesome on this shape because there's so much mass to the body.
"I think the [PDT] is the first signature guitar I have that has a pickguard on it," he added. "We're getting into uncharted waters here, very exciting!"
Aside from stand-out looks, the Demmelition models radiate a tonal punch with an EMG 81 bridge pickup and EMG 60 neck pickup.
"[The EMG 60] is really warm on the neck," said Demmel. "For solos, I go up there and get warm and bluesy tones out of those. I've been digging the EMG 60 a lot."
Watch Demmel run through all of specs in the video below.