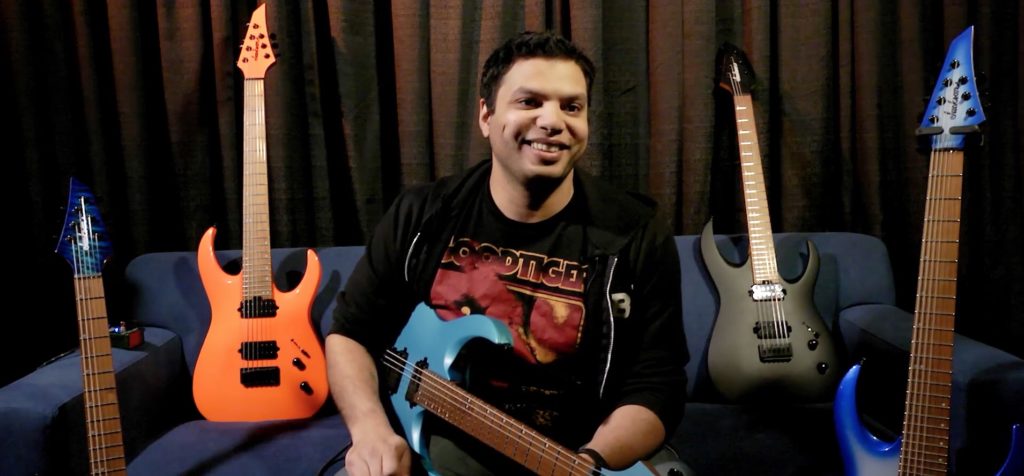 In a new video, Periphery's Misha Mansoor gave the Jackson team an exclusive breakdown of his refreshed Pro Series Signature Misha Mansoor Juggernaut HT6, HT6QM and HT7 models.
"These models are mostly unchanged because the outgoing Pro Series [models] were just so good," said Mansoor. "I was less concerned about really changing them, and more concerned about improving them slightly."
Designed to withstand heavy riffing at insane speeds, the new Pro Juggernaut models feature a bolt-on caramelized maple neck with a 20" flat radius caramelized maple fingerboard. The caramelizing process creates a more comfortable, sturdier wood under your fretting hand, while the flatter radius makes the ideal surface for intricate, highly technical playing.
"Not a lot of guitars have a 20" radius fingerboard," said Mansoor. "If you play more technical styles of music and play a bit faster, you may appreciate what it has to offer. I'm a big fan of it."
The new Pro Series models come in an assortment of gorgeous finishes. The Pro HT6 is available in Chlorine Burst, Matte Blue Frost and Satin Black, while the Pro HT7 comes in Blue Sky Burst and Neon Orange.
"Blue is one of my favorite colors in the whole world and that's why we have three blue guitars," said Mansoor.
The prog-rock/djentman also believes that having both 6-and 7-string offerings can expand your musical creativity.
"The [HT6 models] inspires riffs of its own," said Mansoor. "I usually find they're a little bit more note-y and playful. Generally, the [HT7] makes me write more groovy things."
Watch Mansoor in the full video below, and catch Periphery on tour now in support of the new album Periphery IV: Hail Stan.