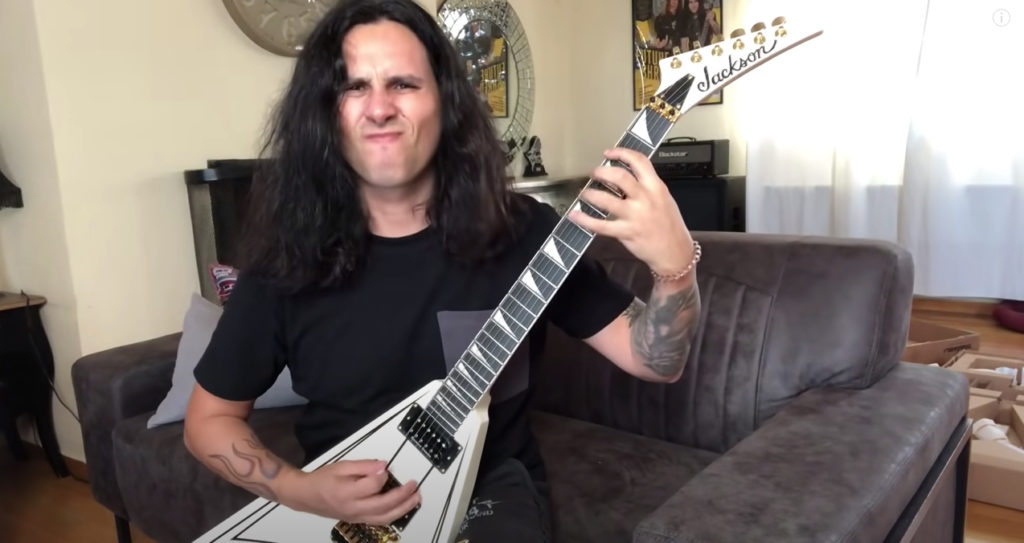 Jackson signature artist Gus G. returned with another unboxing and demo video of his newly acquired Jackson Pro Series Rhoads RR3 on his official YouTube channel.
"For those of you who don't know, I was in Ozzy Osbourne's band for a number of years," said Gus G. 'Because of my connection to Ozzy and that history, I've been thinking, 'Man, I don't have a Randy Rhoads guitar. Why don't I have a Randy Rhoads guitar?' So, I reached out to my friends at Jackson and asked them to send me a Randy guitar."
This model's mahogany body is finished in Ivory with Black pinstripes, reminiscent of the axe made famous by the late Rhoads.
"The pinstripes are classic, it's such an iconic guitar," noted Gus G.
The Firewind guitarist knew no demo of the Pro RR3 would be complete without a stellar playthrough of the classic Ozzy Osbourne number "Crazy Train."
"You cannot hold this guitar and not play this riff!" said Gus G. as he tore through the iconic song from Osbourne's 1980 album Blizzard of Ozz.
"It sounds fucking great and it feels great!" concluded Gus G. "I really love this guitar; it is so special to me."
Watch Gus G. test drive his new Pro RR3 in the video below.