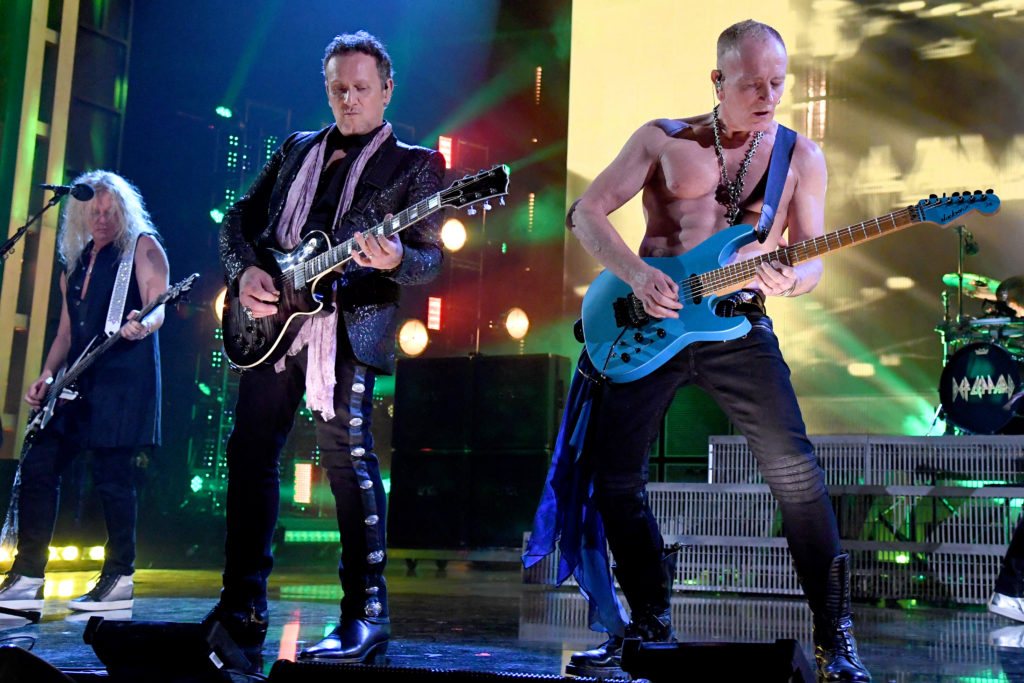 Def Leppard made the most of their induction into the Rock and Roll Hall of Fame last Friday. Between getting inducted by Queen's legendary guitarist Brian May, performing four classic tracks and announcing a new record, it is safe to say the guys had one hell of an evening
Although no other details are yet available, Jackson signature artist Phil Collen told Rolling Stone prior to the evening's kickoff that the band is currently working on their 12th studio album. He also talked about the honor of having May induct them at the Barclays Center.
"We are still the hugest Brian May and Queen fans," said Phil Collen in an interview with Rolling Stone. "We love everything they do; they inspire us to no end. To have him there honoring us is, it's huge."
Upon taking the stage, May started off with a quote from the "Joe Elliott book of philosophy."
"You get one chance to do the good shit; don't fuck it up," he said. "This is my guideline for tonight. I really want to do these guys justice."
May recounted the first time he met the band, and also the first time he saw them live.
"September 1983, I'm in LA and we are recording an album," said May. "I go out and this time Def Leppard are playing the local arena, which is the legendary LA Forum. I go down there very conspicuous and sit in the back and when these boys hit the stage, I have to tell you, I have never seen anything like it. I've seen some great shows at the Forum, but I have never seen an audience react like that. They got to their feet. They never sat down and they screamed and shouted through the whole performance. Def Leppard killed that night."
Def Leppard also crushed the induction night, getting the crowd rocking with "Hysteria," "Pour Some Sugar On Me" and "Rock of Ages" before closing out the ceremony with a solid rendition of Mott The Hoople's "All the Young Dudes" with an all-star lineup featuring May, Steven Van Zandt, Susanna Hoffs of the Bangles and Rod Argent and Colin Blunstone of the Zombies
Enjoy the fan footage clip of the ceremony's closing below, and then stream the entire 2019 Rock and Roll Hall of Fame Induction Ceremony as of April 27 on HBO Go and HBO Now.
For those interested in seeing them live, the Hall of Famers will also kick off Def Leppard: The Sin City Residency, a 12-night residency at the Zappos Theater in the Planet Hollywood Resort & Casino, on Aug. 14. Get tickets to the show here.